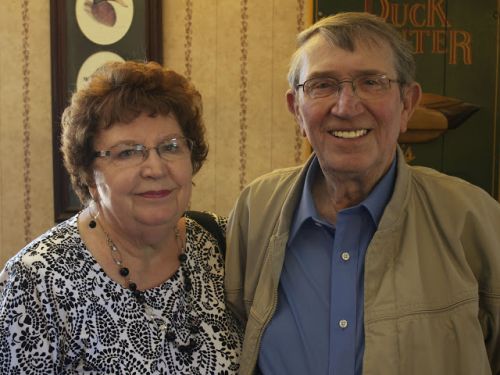 When it comes to optimists, Dale Urness embodies the meaning to every degree. He has endured 32 years of medical traumas, enough surgeries to fill a large recipe card front and back, and 37 daily medications. Despite that record, doctors repeatedly tell him he "looks better than his charts read," and anyone who meets Dale knows the reason: his positive attitude.
On the day I met Dale, his wife of 42 years, Marilyn, informed me he was just released from the hospital a week prior. The cause? Congestive heart failure. He had to stay four days in the hospital.
I cannot recall exactly how I had pictured a man who had been hospitalized for congestive heart failure, but it sure wasn't the way Dale looked. He stood straight, walked without assistance from a cane, and was beaming a heartfelt smile as he entered the reception area of Mr. and Mrs. J's Restaurant in Devils Lake.
The 82-year-old man shook my hand firmly regardless of his hand's frail appearance. Dale's whole demeanor exuded confidence, warmth and, most of all, optimism. I caught myself smiling uncontrollably – must be a side effect from being near Dale.
Dale's history with health problems started when he was only 49. It was a heart attack that time. Since then, he has battled two more heart attacks, throat cancer, kidney and bone marrow cancer, aneurisms, staph infections, loss of hearing. That is just to name a few.
Around the Peterson Farms Seed office, I had heard stories of Dale's perseverance. I had been told about the special dealer award they had made just for him: Most Seed Sold from a Hospital Bed. When I had first heard of the award, I thought it was a joke. After I listened to Dale and Marilyn rattle off his various ailments, I knew it was anything but a joke. This guy was a fighter, but it amazed me to see him still selling seed.
After his bout with throat cancer in 1996, Dale admitted losing not only his voice, but also most of his customers. "I couldn't talk for about a year," he said. "I didn't have much left. I think it just scared them away. I called one guy and asked him where he'd gotten his seed. He said, 'I heard you were going to die so I went to the elevator instead.' I told him, 'Why didn't you call me? I'd of told you I wasn't going to die!'"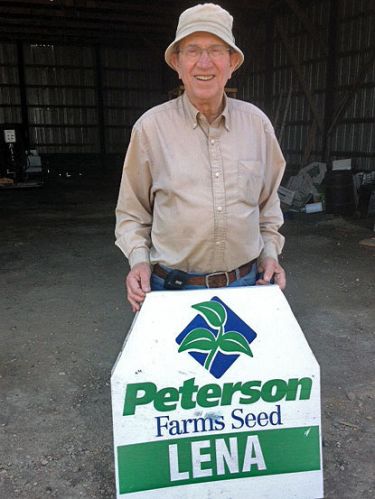 Dale with a field sign from one of the first PFS varieties, Lena.
Since then, Dale has built his grower base back up, but he gives much of the credit to his customers. "Because of my voice, they shut their tractors off. You know, most farmers are half deaf, but they adjusted to me. They could've dropped me because of it, but they didn't."
Dealing with his customers is Dale's favorite part of the seed business. A few have been buying from him for 30 years, and he said it feels like visiting old friends. "It helps keep me young," he said.
Another person who has been instrumental in keeping Dale young and taking care of him when he did not feel so young is Marilyn.
"I'll tell you one thing: without Marilyn, I wouldn't have gotten any place," Dale said, smiling at his wife. "She's helped me with my health problems and my seed business. She's even helped me treat seed."
Marilyn grimaced at the thought. "I've turned blue so many times from treatment! That's the bluest stuff I've ever seen!" She laughed, and they exchanged glances. The unconditional love between them was unmistakable to the entire room.
Dale's health conditions have created changes in both of their lives. Marilyn sold Mary Kay cosmetics for 25 years and became a senior director before she gave it up.
"I quit doing Mary Kay when he got so sick," Marilyn said without a trace of regret. She smiled then pulled a large pill container out of her purse. She poured a glass of water for Dale and passed the handful of pills to his outstretched palm. He smiled a thank-you. "I think we'll both slow down a little bit," Marilyn said. "We are the oldest people at all the meetings we attend."
By this point in our interview, Dale's voice begins to fail him. I struggle to hear his responses, but as I ask my final question about what has kept him going through all of his trials, he speaks with renewed energy. His eyes crinkle as he grins wholeheartedly at me.
He begins, "You are still young so you may not know this, but life is up and down. You've just got to keep plugging. Sometimes you don't know if you'll get through it, but you do and things get better. Then something else will happen, and you'll go right back down. Everybody's got those," Dale pauses, resting his raspy voice. "But I believe it'll always get better."
Dale was a teacher for 16 years, a farmer for 30 years, and in the seed business for 30 years. He feels blessed to have a great family: 7 children, 21 grandchildren, and soon to be 12 great grandchildren. Life is good. He says working with Peterson Farms Seed has been a great experience.
By Kaitlyn Nelson PFS 2012 Summer Intern