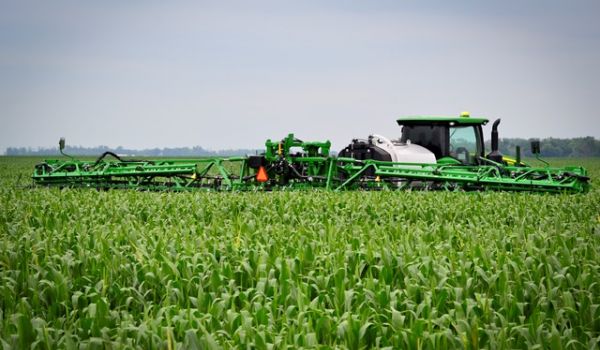 We believe the new technology being offered from 360 Yield Center can make a significant contribution to your profitability this coming year. The tools they have introduced allow you to maximize yields through three actions on your part – Sense, Decide, and Apply. Throughout the week, we've discussed each of these actions and tools.
Action: APPLY
Nitrogen application is one of the biggest risks to your profit margin. Adding too much Nitrogen is a waste of money and potential environmental hazard, yet too little Nitrogen can limit yield potential.
Nitrogen is critical for so many key functions of corn growth. A corn plant needs more Nitrogen than any other nutrient, and it needs it throughout the growing season. Nitrogen is a complex input because it is highly susceptible to loss and because its availability is affected by moisture, temperature, soil type, and other variables.
75% of Nitrogen is used after V10 stage. How can you provide the right amount of N in the right place?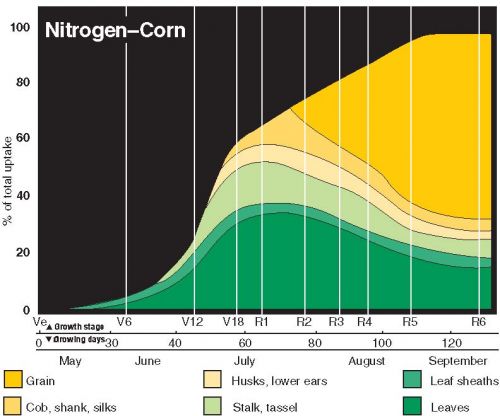 Photo credit: Iowa State
Tool: 360 Y-DROP
360 Y-DROP is a new tool in the toolbox for nitrogen application, allowing us to feed N to the crop when and where the crop needs it most, even up to tassel.
The biggest benefit of Y-DROP is the precise placement of N. A corn plant acquires 63% of its N supply from a horizontal radius of 7 inches. With adjustable arms for varied row spacing, and the shape of the nose, which pushes away corn leaves without disrupting the plant, Y-DROP is able to place nutrients within 2-3 inches of the stem. This means we're able to utilize stem water to move the nutrients into the soil profile. Y-DROP is extremely versatile, as it is available in 20 inch, 22 inch, 30 inch, and 38 inch row applications for up to 80 foot boom sections.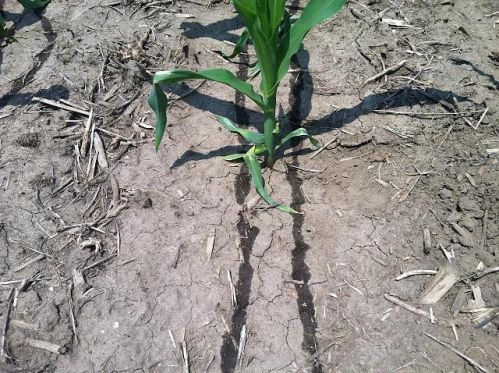 Y-DROP gives you the opportunity to extend the window of application and take control of something that previously couldn't be controlled. Although Y-DROP can be installed on many different types and models of sprayers, it was designed with self-propelled sprayers in mind. Because you can apply N when the plant needs it most, you have the potential to cut N rates by up to 30%.
Our agronomy team has a lot of experience in farmers' fields, and 360 Yield Center is a natural extension for them. 360 Yield Center's products can add to a farm's bottom line in the very first year of use, so they are a great fit for the current farm economy. As a farmer, you must be focused on becoming more efficient and saving money, and doing this without cutting corners. We can't wait to see the difference 360 Yield Center can make by helping you capture more control, more yield potential, and more on-farm profit.
For more information about 360 Yield Center, please contact Peterson Farms Seed at 701-282-7476.