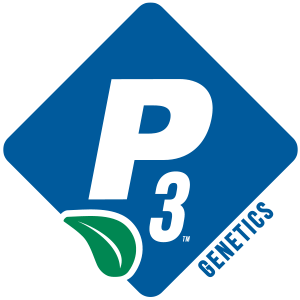 P3 GENETICS SOYBEAN SEEDS
The Power of Proven Performance
Enlist E3 and LLGT27 Soybeans – chosen specifically for your ground.
With P3™ Genetics soybeans, you get the hard-working products your farm needs backed by the Peterson Farms Seed promise you know and trust: "We Will Sell No Seed We Wouldn't be Happy to Plant on Our Own Farm."
P3 Genetics offers two great trait options: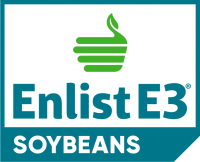 CHOOSE THE SOYBEAN SEED THAT WORKS FOR YOU
New
Variety
Rank
Trait
Maturity
Phytoph. Gene
Phytoph. Field Tolerance
IDC
SCN
Brown Stem Rot
Lodging
Plant Type
Plant Height
Product Card
New
2201E

NEW

1
Enlist E3
0.1
Rps1a3a
8.0
7.5
S
Poor
6.5
Intermediate
Med-Tall
2002E
2
Enlist E3
0.2
Rps3a
8.0
7.3
S
Poor
7.2
Intermediate
Med
2003E
3
Enlist E3
0.3
NG
6.2
6.8
R
Poor
7.1
Intermediate
Med
2005E
4
Enlist E3
0.5
Rps3a
7.5
7.4
R
Good
6.9
Bushy
Med
2106E
5
Enlist E3
0.6
Rps3a
8.0
8.1
R
Good
7.0
Bushy
Med
New
2207E

NEW

6
Enlist E3
0.7
NG
7.1
6.8
R
Poor
8.0
Intermediate
Med
2108E
7
Enlist E3
0.8
Rps1c3a
8.0
7.9
R
Fair
7.6
Intermediate
Med-Tall
2109E
8
Enlist E3
0.9
NG
7.5
6.2
R
Excellent
7.5
Intermediate
Med-Tall
2110E
9
Enlist E3
1.0
NG
7.2
7.3
R
Excellent
7.2
Bushy
Med
1911E
10
Enlist E3
1.1
NG
7.1
7.2
R
Good
7.4
Intermediate
Med-Tall
New
2212E

NEW

11
Enlist E3
1.2
Rps1c
7.0
8.0
R
NG
7.5
Intermediate
Med-Tall
2013E
12
Enlist E3
1.3
Rps1c
7.2
7.3
R
Good
7.1
Bushy
Med-Tall
New
2214E

NEW

13
Enlist E3
1.4
NG
7.0
7.4
R
Excellent
7.8
Intermediate
Med-Tall
2015E
14
Enlist E3
1.5
Rps1c+H1k
6.7
7.8
R
Good
6.9
Intermediate
Med-Tall
New
2216E

NEW

15
Enlist E3
1.6
Rps3a
8.1
7.3
R
Excellent
7.7
Intermediate
Med
New
2218E

NEW

16
Enlist E3
1.8
Rps3a
8.2
7.1
R
Good
6.8
Intermediate
Med-Tall
2119E
17
Enlist E3
1.9
NG
7.0
6.5
R
Fair
6.8
Intermediate
Med
New
2220E

NEW

18
Enlist E3
2.0
Rps1k
7.7
7.2
R
Excellent
7.0
Intermediate
Med-Tall
New
2222E

NEW

19
Enlist E3
2.2
NG
7.7
7.2
R
Excellent
7.0
Intermediate
Med-Tall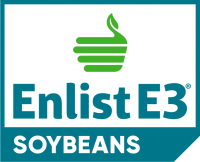 Enlist E3 Soybean Seeds
The Future Technology for Tough Weeds is Here
A new era for weed control is here with Enlist E3® soybeans. As your Enlist Authority, we are the leader in bringing the latest soybean trait technology for exceptional weed control and application flexibility to this region.
Our Experience. Your Advantage.
We have more experience than anyone in the region with the Enlist® weed control system for soybeans. We know how different varieties of Enlist E3 soybeans perform right here—what to watch for, and what you need to know.
The Enlist system controls these difficult regional resistant weeds:
Kochia
Common lambsquarter
Common and giant ragweed
Eastern black nightshade
Marestail*
Velvetleaf
Waterhemp
*May require a broader management plan including timely application and use of a soil residual herbicide.
Low Drift and Volatility for Improved Crop Safety
Enlist E3 soybeans represent the most advanced soybean traits on the market, with tolerance to new 2,4-D choline as well as glyphosate and glufosinate.
With tolerance to three kinds of herbicides, Enlist E3 soybeans can be treated with Enlist One™ and Enlist Duo herbicides. Both herbicides feature new 2,4-D choline with Colex-D® technology and provide superior control with low drift and low volatility. Enlist Duo herbicide is a blend of 2,4-D choline and glyphosate, allowing for an additional mode of action in the fight against resistant weeds.