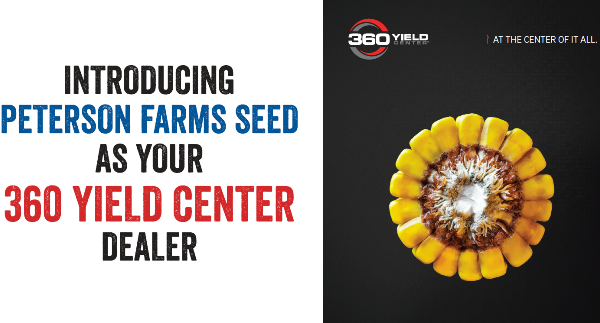 Peterson Farms Seed is proud to announce its recent affiliation as a dealer for 360 Yield Center products.
Founded by farmer and entrepreneur Gregg Sauder, 360 Yield Center is focused on integrated tools and technologies to capture more yield from every field. 360 Yield Center's in-season tools are geared toward helping farmers interpret what is already in the field.
360 Yield Center's current products help farmers make the right decisions through three actions: sensing, deciding, and applying. SoilScan is a portable lab system that gives farmers the ability to process soil samples quickly, sensing what is going on with the soil and the plant; Commander is web-based software that streamlines the decision-making process by integrating farm information with USDA soil records, current rainfall, and forecasted weather; and Y-Drop is a sprayer attachment that allows for late season Nitrogen application, regardless of crop height.
"We are proud to represent 360 Yield Center products as they offer technology that can add to a farm's bottom line the very first year of use," said Adam Spelhaug, Agronomy Lead. "Our team has a lot of experience in farmers' fields with Precision Planting equipment, so this is a natural extension for them. We can't wait to see the difference 360 can make by providing more bushels."
360 Yield Center products are available from Peterson representatives Josh Tommerdahl, Prosper; Ben Askegaard and Kasey Karlstad, Kindred; and Kaelin Kyllo and Devan Hafner, Hunter.

For more information about 360 Yield Center, please contact Peterson Farms Seed at 701-282-7476.