There's a lot to look forward to with the new Enlist E3™ soybean system so let's take a minute to unpack what your herbicide options are with this trait.
First of all, it's important to understand there are two choices of the Enlist herbicide:  Enlist One™ and Enlist Duo™ .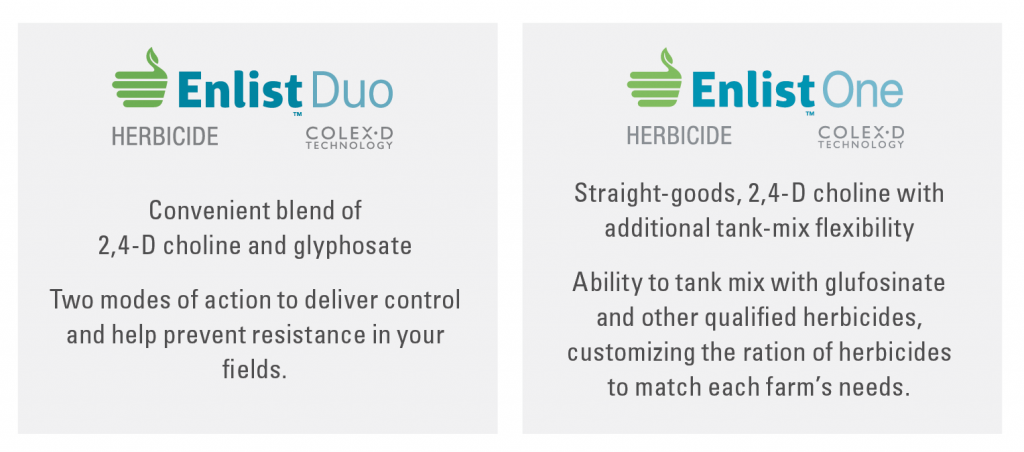 Enlist Duo is a pre-packaged blend of 2,4-D choline and glyphosate.  Enlist One is a straight goods package of 2,4-D choline alone. Both herbicides feature Colex-D technology to provide additional features beyond just weed control.
COLEX-D technology
Colex-D technology can be thought of as a 3rd version of the original 2,4-D chemical.  Most farmers are familiar with the ester and amine versions.  This 3rd version, Colex-D is a quaternary ammonium salt.  If you want to get technical you can ask your favorite chemist friend what that's all about!
This technology reduces potential spray drift by 90% and volatility by 96% (considered near-zero volatility) and has significantly reduced odor versus the original formulations.  Please remember it is illegal to spray either the ester or amine version on Enlist soybeans.
Tough on Weeds
Tough weeds controlled by this herbicide include:
Common lambsquarter
Common and giant ragweed
Marestail
Velvetleaf
Palmer amaranth
Waterhemp.
It also has very good activity on kochia, when sprayed at labeled rates, but don't forget with the Enlist system you can also spray glufosinate to help out when needed.  I suspect we will hear a lot of talk about 2,4-D but a huge benefit to the Enlist system is the ability to also spray glufosinate or glyphosate for unmatched flexibility.
In addition to application flexibility, you can also use this herbicide system through R2 giving you a much wider application window than other traits.
Remember that Enlist.com has a tremendous amount of information and guidelines on how to best use this technology and many testimonials on its performance, but maybe the best testimonial is from a neighbor who grew a seed production field of Enlist soybeans for Peterson Farms Seed in 2018.
"This system has so many options and dimensions when it comes to using the chemical. I loved the flexibility and it totally smoked the ragweed we'd been struggling with on our farm."  Zach Green, Peterson Farms Seed production grower, Newfolden, MN.
Bottom line, this system represents the future of weed control for our farmers and we couldn't be happier to have 11 great varieties in our line-up (pending export approval).
Want to learn more about the Enlist trait? Read more here.
Questions? Feel free to contact me our agronomy team at agronomy@petersonfarmseed.com or call (701) 282-7476.