One of the featured agronomic demonstrations for Peterson Farms Seed's upcoming Groundbreaker Field Day is the 400 Bushel Project, led by Mike Larson. Mike is exploring the genetic potential of 55S96, 38L90, and 98E84, while monitoring all factors of growth within his control.
Ultimately, this fun experiment will maximize yield potential of these three varieties. The hybrids were planted by hand using the low-tech plywood planting system pictured below.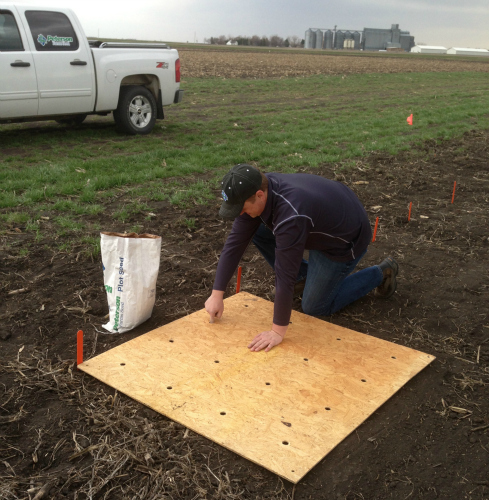 Each plant has one square foot in which to live, which equates to a final plant population of 43,560 plants per acre. The plots are planted on 20 foot tiled ground. The PFS team designed an irrigation system that allows us to provide the hybrids with all of the nutrients and water needed to produce a yield of 400+ bushels per acre.
John McGillicuddy will be serving as our high yield consultant throughout the summer, and is excited to speak about this project at Groundbreaker Field Day on Wednesday, August 28. This is a must-see demo that you will not want to miss! The PFS team will be monitoring the project and sharing updates as the season continues.