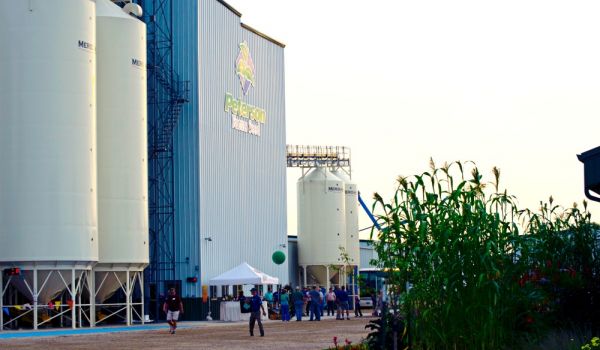 As soybean harvest wraps up around the region, we're especially eager to start processing beans in our new, state-of-the-art soybean processing plant.
Rapid growth over the last decade necessitated both increased capacity and through-put for our processing plant. The project features the latest soybean processing technologies—including high-speed cameras that examine each individual seed—designed to deliver Peterson customers in North Dakota, South Dakota and Minnesota the consistently high quality soybean seed they have come to expect from Peterson Farms Seed.
"Our customers tell us every year that our seed quality is the highest they can find," says Carl Peterson, president. "The technology that we've built into this new plant will allow us to continue delivering on that high standard, at a higher capacity and with more comfort for our team members. Providing quality that meets or exceeds our customers' expectations is part of our company mission. And it is the first step in helping farmers optimize the potential that is in the seed itself."
The new facility is equipped with the latest soybean processing technology. The cleaning and processing machinery removes foreign matter like chaff and pods and then sorts the soybean seed by size, density and shape. Machines called color-sorters then use cameras to examine each individual seed to compare it against established color parameters. Any seeds that do not meet the criteria are removed with a shot of air, ensuring that only the most uniform and highest quality product is bagged and labeled with the Peterson name.
Careful handling is important to maintaining high germination rates. All soybean movement within this plant is accomplished through the use of belt conveyers rather than augers, along with ensuring that seed is not dropped more than six feet during processing. Minimizing rough handling helps us deliver on our promise of 94% germination rates, a promise that is unique in the seed industry.
John Ziegler, our production manager, says that through-put will more than double with the new plant. "We can now condition up to 1,000 bushels per hour," he says. "But while the plant capacity has changed, one thing will never change – and that is quality. We are real sticklers for high quality."
The multi-million dollar investment is in response to the growth Peterson Farms Seed continues to experience in North Dakota, South Dakota, and Minnesota. "The investments increase efficiency while giving us the capacity to serve a rapidly expanding customer base," says Mike Larson, sales manager. "We're committed to helping farmers maximize yield on every acre they farm. We can do that by growing, processing, and selling the very best seed possible."
We're eager to be fully operational this fall. We invite you to stop by for a tour when you're in our area – the Welcome Mat is Always Out!