Technology has given you more information than ever before to incorporate into your farming operation. But it can also be misleading, and costly, if you are using that information to make the wrong decisions. Today we'll talk about when to use on-farm trials and when decisions should be made from a much larger pool of replicated data generated from multi rep, multi-location and multi-year trials.
On-Farm Trials – They Have A Place
On-farm strip trials are great to help give ideas on how to run a tighter ship. Years of data collection can transform the farm into a more efficient, higher producing operation.
Our Ole & Sven experiments are our version of this. We've been comparing different farming practices and techniques with multiple replications in the field for the past 15 years. We look at planting speed, planting depth, population and even row spacing. This has given us valuable insight into what works best on our ground around the farm but also confidence in what we recommend as best practices to our customers.

Corn Recommendations:
Population: 32,000
Planting Depth: 1.5in-2in
Planting Speed: 3.5 mph

Soybean Recommendations: 
Population: 150,000
Planting Depth: 1in
These findings will get you in the ballpark for what you should be using but the fine tuning must come from your farm itself.
Use on-farm trials to:
Learn your ground
Determine best practices
Fine-tune inputs
Measure ROI
Notice what is not on that list: seed decisions. Do NOT use on-farm or strip trials to make decisions on hybrids or varieties. That's something that you're gonna need the big guns for.
What To Trust When Making Seed Decisions: Replicated Data!
Trust The 3 R's: Repetition, Repetition, Repetition.
On farm data is just too variable when it comes to making decisions about what to plant on your farm. Strip trials are often planted where it's convenient and only give you one look at one location. Replicated research is science based. We not only look at the average yield of a variety over multiple replications, multiple locations and multiple years, but we use hard core statistics to tell us if that 2.8-bushel difference between two varieties is real and repeatable across regions and years.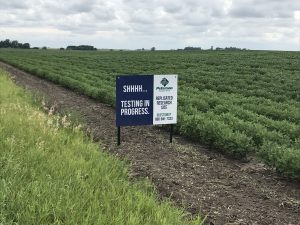 Our replicated research approach:
A single test in our program is conducted on 25 varieties.
We plant three replications of that test in a single location in a uniform area the size of a basketball court.
That test is repeated in 10-15 locations.
Then we do it all over again the next year generating up to 90 data points comparing two varieties.
This is a monumental effort, but we do it because it's the right thing. And frankly because you can't. Even the genetics companies cannot scale to this level—which is why we do it for them. And if they can trust the results, you can too.
Our research findings are used in conjunction with University data each fall. Your Peterson Farms Seed dealer can show you head-to-head findings from tens-of-thousands of data points to help you make the very best decision for your farm this year.
If you have questions about our replicated research approach or our findings you can reach me at Dennis@PetersonFarmsSeed.com.
If you want to learn more about our Ole & Sven program or talk to Troy about how to start using technology on your farm, email Troy@PetersonFarmsSeed.com.