Stop at the farm during a calm day and you might find Nolan Berg, Precision Systems Specialist, staring into the blue sky. With a remote control in hand, Nolan is doing what he loves most about his job at Peterson Farms Seed: flying his drone!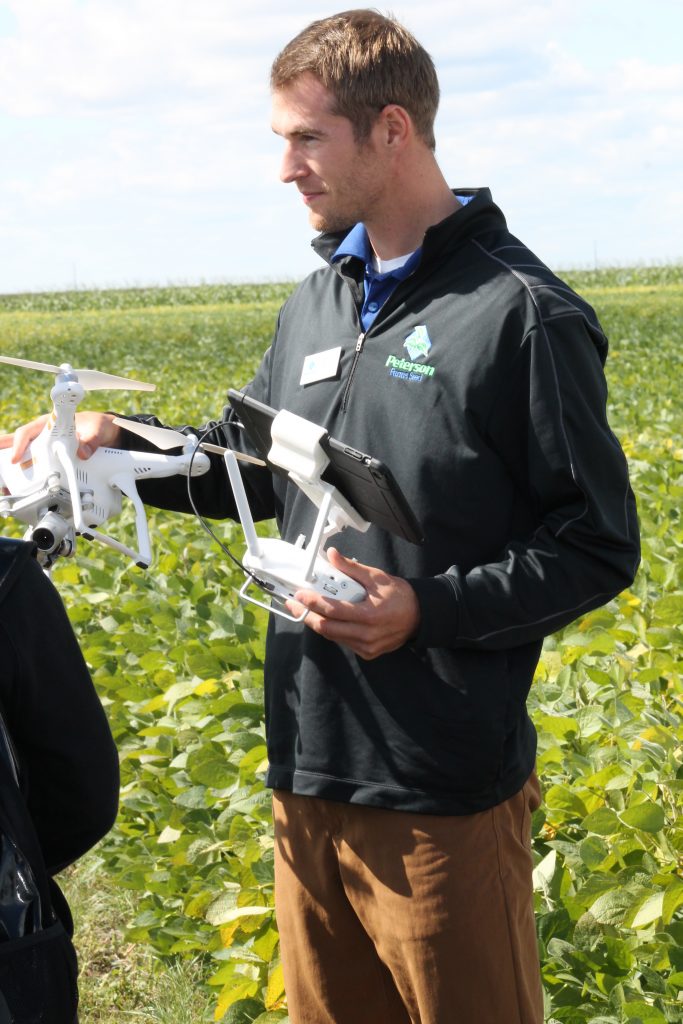 Since the start of 2014, Nolan has been our go-to guy when it comes to all things precision ag. Along with his passion for drones, Nolan recognizes the changing role that technology plays in a farmer's day-to-day decision making.
"Today, a farmer needs to be aware of all the new genetics on the market, as well as the chemical programs that go with them. There are constant updates and a whole host of new software and mobile technologies that farmers need to keep up on," says Nolan. With that in mind, he prides himself on helping farmers stay on top of beneficial new technologies by meeting with growers and giving technology presentations throughout the year.
You may know that Nolan is a whiz when it comes to ag technology and precision systems and that he is a former NDSU Track and Field team captain, but there are a few things you might be surprised to learn about our 'guy-in-the-sky'. Take it away, Nolan:
I grew up in Karlstad, Minnesota, which is around 35 miles northwest of Thief River Falls.
After high school, I headed to NDSU where I earned an undergraduate degree in Turfgrass Management with a minor in Business Administration, as well as a master's degree in Plant Sciences.
Besides attending class and studying in college, I was a member of NDSU's Track and Field team as a pole vaulter for 5 years.
How high can I vault, you ask? My personal best vault is 16' 2".
In January 2014 I joined Peterson Farms Seed to be the Precision Systems Specialist. I work with new technologies and bring them to our growers. I also am the Field Manager for our soybean small increases where we grow the new genetics.
The best part of my job is, of course, flying drones! I love to show growers their fields from a point of view they don't normally see. It is gratifying to help growers expand their way of looking at their fields and show them the many uses for the data we gather with technology.
When I'm not flying drones or keeping up on new ag technology at Peterson Farms Seed, you can usually find me doing something active. I love mountain biking, running, hiking and camping with my girlfriend, Melissa, and our dog, Basil. Being outdoors for a good part of the summer is a huge perk of my job!
Although I do appreciate the open prairies of North Dakota, my favorite vacation destination is camping anywhere near a lake or the mountains. Along the same lines, I would jump at the chance to visit New Zealand one day.
While I'm busy helping farmers, my dad recently retired from working at Marvin Windows for 30 years and my mom works at an oil co-op. My sister is a fundraiser for a non-profit animal rescue in Oregon.
The theme of "jumping" has come up often in this list, so why not add one more: I can do a standing backflip!
Last year, I was honored and proud to speak at two drone conferences: The Commercial UAV Expo in Las Vegas as well as AUVSI in New Orleans.
If I was not working in the field of Precision Ag, you might find me with a camera in my hand working as a photographer.
There you have it! We hope after reading a little bit more about a member of our team, you'll see why we stand behind our quality and excellence in everything we do. Every member of our team holds themselves to the highest of standard, which projects our products into excellence as well.