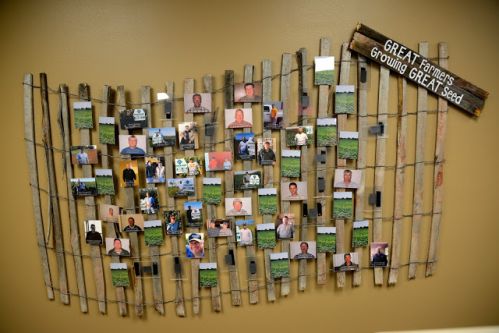 Product quality is critical to any consumer. When you experience a glitch with your cell phone, you may be able to exchange it, or receive a replacement. When the zipper on your new coat malfunctions, you can return it. While these instances are definitely inconvenient, they can usually be remedied fairly easily.
While quality is a huge concern across every product group, the seed industry is unique in that it doesn't allow for returns, exchanges, or do-overs. The product must be "the best" the first time around. Farmers cannot accept inferior or subpar seed. The stakes are high.
In this season of gratitude, we'd be remiss if we didn't give a shout out to the awesome farmers who grow our seed. This group of growers bends over backwards to meet our tough quality standards. They are integral to the success of Peterson Farms Seed. Adam Spelhaug says it best, "The high quality seed we provide really begins with our high quality seed growers."
Stop in our office to see our "PFS Grower Wall of Fame"! We're proud to work with each and every one of these farmers! We honor our seed growers on the PFS Grower Wall of Fame. Thank you for all of your hard work to ensure superior seed quality.