Why were 2017 and 2019 such devastating White Mold years?
The simple answer – the conditions for White Mold were just right.

The most important thing before you read this article is to think about your problem fields and areas from previous years. What management practices do you currently use? Do they match and can they help? The intention of this article is to help you come up with a plan now so you can hit the field running. If we get ample rain in 2021 there is a good chance we could run into the same problems we did in '17 and '19.
It all boils down to what happens in August.
August: A Pivotal Month For White Mold
The stage is set, the canopy is built, plants are loving life and podding heavy.  The weather can quickly go one of two directions: 'Wet, Calm and Cloudy' or 'Dry, Windy and Calm'. Without fail during the first weekend in August, the temps start to drop at night. Those cooler temps lead to morning-after-morning of dew up and down the plant– a breeding ground for White Mold.
Will the canopy dry out by noon or will it stay wet all day? This has really been the difference in the last four years. In 2018 and 2020 in the Fergus Falls area, we ended up with only seven and five mostly cloudy, rainy days in August (respectively). In 2017 and 2019, we ended up with 13 and 12 days (respectively) that were mostly cloudy and rainy (source: Wunderground). Almost half the month with free moisture on the plants all day long– White Mold went crazy. The extra week of clouds in August has become the deciding factor between very few issues and widespread problems.
Many growers were hit harder than they ever had been. I personally watched field after field of 60-70 bu/A beans drop all the way to 5 bu/A. Have conditions like this happened in the past? Yes. However, I also believe current practices have helped aid the spread more than ever before.
What can we do?
Management Decisions You Can Make to Control White Mold
Drop Your Population
165K was once the average population. While the trend is now closer to 140k (1 acre = 1 unit of seed), going even lower in White Mold problem areas can really help. Think 100-120K—especially if you can use variable rate maps. Identify problem areas from the last few years and build a plan around them. Consider going as low as 100K or less in the worst areas. Getting 25 bu/A in those areas rather than 5 bu/A would be a huge win.
Pay Attention to Plant Structure – Do you have the right variety purchased
Many people I visit with don't pay attention to the plant structure of the varieties they grow. In every seed guide you should be able to find out whether it is Short, Medium or Tall. Also pay attention to if it is Thin, Medium or Bushy and Then match row spacing to the plant type. That along with adjusting populations should control how thick your canopy grows.
If you run 15" rows and have pretty good fertility, you may want to look for a thin line bean with good standability. On the opposite end, if you are planting 30" rows with lower fertility, you can get away with a bean that is bushier to fill in the rows.
Standability/Lodging Rating
Pay special attention to these ratings! They should be in any seed guide. If you don't have a history with White Mold you can get away with a lower lodging rating. But if you have had problems in the past this should be one of the first things you look at.
Rotation – Control What You Can
Any type of rotation to a non-host crop like corn or wheat can help, particularly if you are rotating more than one year. What gets growers in trouble are the bean-on-bean years, as Sclerotia can live up to 8 years in the soil.
Fungicide & Timing
Use a fungicide early (after R1) then plan for a second application in August when conditions are favorable for spread and canopy penetration. Pay attention to new chemistries in the market. While I love fungicides, we have much room for improvement when it comes to the timing of applications: there is no silver bullet.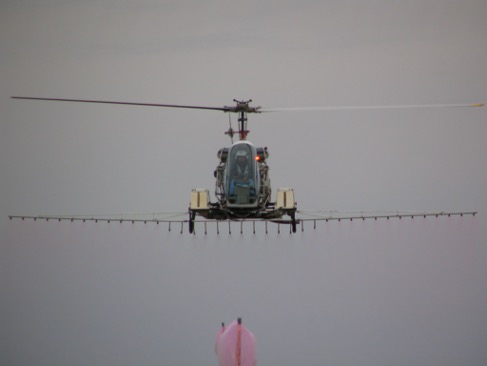 Timing is key, so it is important to monitor when the sclerotia first emerge and try to time your application to control ascospores before they can infect the plant. This is not an easy management decision with flowers being produced for two months per season and individual applications only effective for a week. Clearly, the infection window is huge. This summer we are starting a fungicide study where we'll monitor temps, humidity, wind, solar radiation and timing to try to mitigate these problem areas going forward. More exciting information to come on this later in the year.
Maturity
One (slightly unpopular but effective) way to tackle White Mold is to beat the disease before it becomes an issue. Planting an earlier maturing variety on your problem fields could help you finish before the August humidity hits. Once a canopy begins to senesce and open humidity levels go down, the environment does not allow spread. But I only advise this on the worst of the worst fields.
This may mean planting a variety that finishes 10-14 days earlier than what you normally plant. The downside to this approach is leaving 5-10 bu/A on the table by not maximizing maturity, but the benefit could be getting a crop where you haven't been able to the last few years.
Fertility – I LOVE FERTILITY!
High fertility means high yield—period. But a high yielding, fertile environment can also yield White Mold. Be aware of this and pay attention to other management practices mentioned earlier to help prevent and protect. Try to manage around fertility.
The best defense against white mold is, well, DEFENSE! Control what you can to make your fields unappealing to White Mold. Take steps now in planning for 2021 to help combat some of the White Mold pressure we have been facing.