As May rolls in, so does spring fever! Spring fever symptoms are those very familiar to farmers: restlessness, loss of appetite, and daydreaming as we wait for the planters to get rolling. The good news? Spring fever will soon be eating our dust as the chaos of planting season begins. However, before we get carried away dropping the planter in the ground and racking up the acres, let's make sure your soybean population is set right where you want it. 
Our favorite source for practical agronomic information comes from our Ole & Sven research plots. Since 2005, we've been performing these tests right here at Peterson Farms Seed, with the simple goal of giving farmers the best and most useful information on planting depth, speed, population and much more. These plots have provided proven data to use in decisions on our own farm as well as our friends and neighbors. 
This year, we're excited to see a correlation between the soybean population data we've collected through Ole & Sven and the soybean population data released through NDSU's Crop & Pest Report. Below are two charts comparing the data we've collected and the data collected through the NDSU Crop & Pest Report.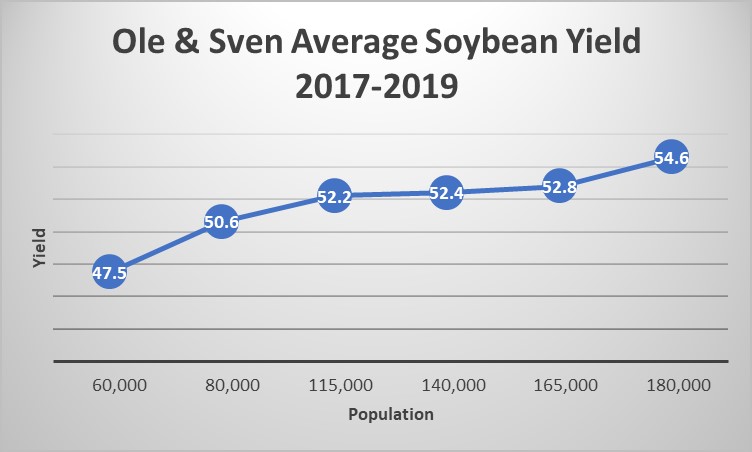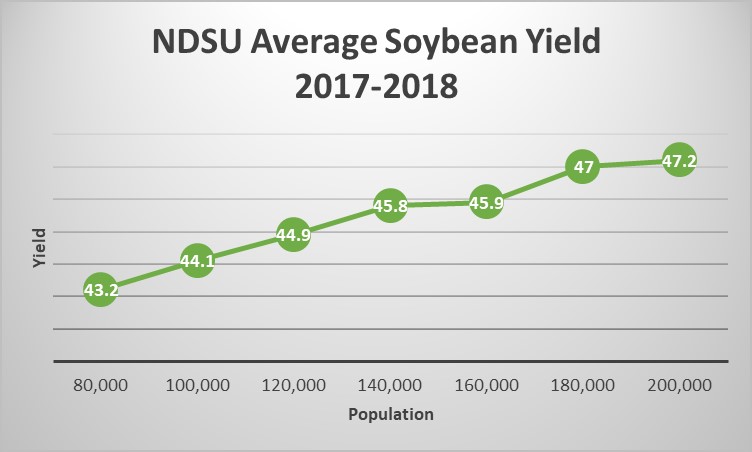 What does this data mean?
As you can see on both charts, the data shows yield fluctuating and flattening at different planting populations. Both graphs follow a similar curve as they move up and to the right, indicating yield has a steep increase from low populations to mid, and then flattens out until increasing again at higher populations.  
We find the ideal planting population to mitigate risk and optimize yield, given the above information, is 150,000 for soybeans. This is the sweet spot between under investing and over investing in your crop. A field planted at 80,000 may have a good yield potential but the effects on yield due to disease or weather events becomes far greater. On the other end of things, a field planted at 180,000 shows to have a higher yield, but the investment needed to produce that yield may not be profitable come harvest. 
In NDSU's Crop & Pest Report you can find a breakdown of the profitability of soybeans planted at different populations.  
Check out these articles for more information on what we've learned over 15 years of Ole & Sven research: 
Ole & Sven Over the Years: Research You Can Use 
Best Practices for a Better Soybean Crop 
What We Learned in our 2018 Ole & Sven Research Study 
As always – feel free to shoot me an email (troy@petersonfarmsseed.com) or give me a call at (701) 282-7476 with any questions or to dig a little deeper into our Ole & Sven research! Happy planting!