In 2005 we introduced the Ole & Sven Research Plot here at our headquarters in Prosper. Ole & Sven was created to localize our agronomic research and build comprehensive yield data for farming practices in North Dakota.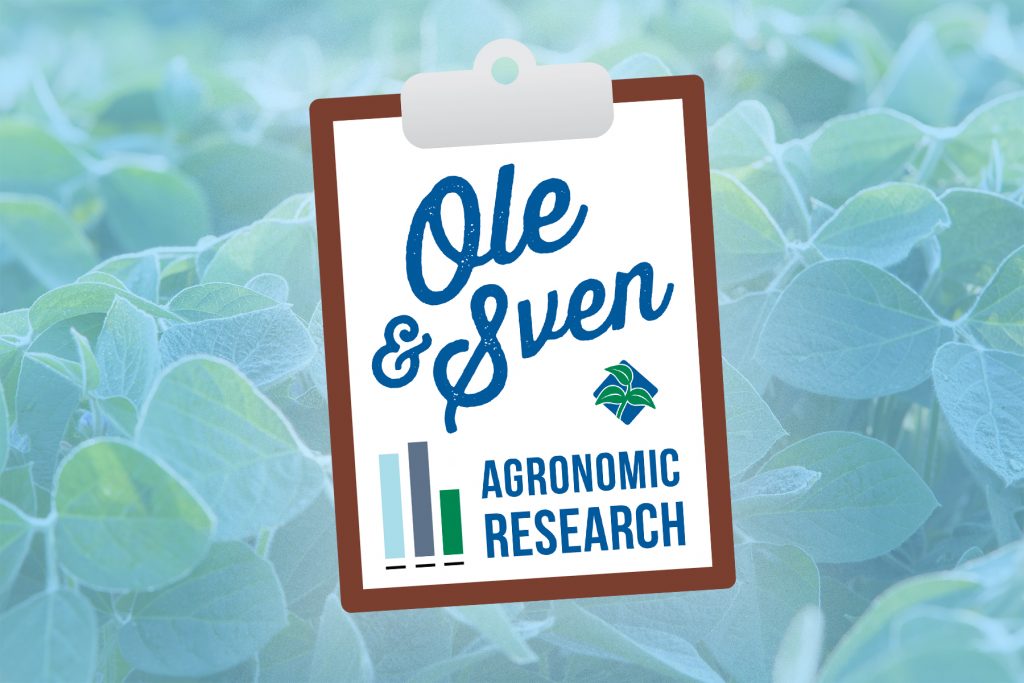 Wh
o
are
 Ole & Sven?
The plot was dubbed Ole & Sven to showcase two types of farmers: Ole is the progressive farmer, never afraid to adopt new practices and invest heavily into his crops to maximize yield. Sven plays it safe; he cuts corners and holds back on inputs in hopes of saving money.  
For 15 years we've compared these two through numerous trials in both corn and soybeans. Trials ranging from our bread and butter; population, planting date, and planting depth plots; to our more creative plots like defoliating corn, planting old seed, or 44" corn rows.  
What are the Results?
Unfortunately, 2019 left us with mixed results and uncollected data as our corn plots still stand out in the field. Luckily, the Ole & Sven Research Plot has provided mounds of data Adam has collected over the years. With this data we can give confident recommendations on what populations, planting depth, and planting speed works best for maximizing yield, as well as provide data backed recommendations on other agronomic practices.  
Corn Recommendations:
Population: 32,000 
Planting Depth: 1.5in-2in 
Planting Speed: 3.5 mph 
Soybean Recommendations:
Population: 150,000 
Planting Depth: 1in 
Seed Treatment: 1 bu. advantage  
Check below
 for 
links to Adam's Ole 
& Sven posts over the years.
Adam has been writing blogs highlighting the results since the early days of this research. These blogs are great sources for valuable information collected from the Ole & Sven plot, with insights that ensure you're prepared for the coming growing season.  
What We Learned in our 2018 Ole & Sven Research Study 
Best Practices for a Better Soybean Crop 
Boost Corn Yield by Choosing the Right Planting Depth 
The Best Thing You Can Do to Improve Corn Stand 
The Best Time for Planting Corn, it's more than just the Calendar 
Increasing Corn Population, 5 Tips to Make You More Successful 
Ole & Sven Answer Regional Ag Questions 
What's 
on the horizon
?
Moving forward Ole & Sven will continue challenging the classic trials we've been performing over the past 15 years while implementing some new and innovative studies as well. We are looking forward to bringing back the wide row corn study this year in hopes of obtaining better yield data. We also plan to experiment with rolling out plastic film over some early planted corn rows to heat up the seed bed faster. Our planter we call Lars is decked out with Precision Planting technology, we plan to continue putting this technology to the test by performing a seed singulation trial and downforce trial this year.
Down the road we hope Ole & Sven will compare different tillage/no-till systems and replicate select agronomic trials within these systems. This will open the door to experiments with cover crops in the future and the possibility of long-term comparisons between land management practices and field productivity.