Today is part 2 (Rhizoctonia) of our 4-part Seedling Disease Series. If you missed part 1, check it out here. 
We're highlighting the top seedling diseases that haunt farmers in North Dakota, Minnesota and South Dakota to educate farmers on what can be done about these diseases. In many cases, seed treatment can be the difference between establishing a solid stand and a failure. Phytophthora, Rhizoctonia, Pythium and Fusarium are the most common seedling diseases. A solid seed treatment is cheap insurance to help you sleep well at night. 
If you haven't heard our stance on seed treatment, check out this blog.
My goal is to help you understand what contributes to these diseases and what you can do to manage them on your farm.  
Today we're discussing Rhizoctonia.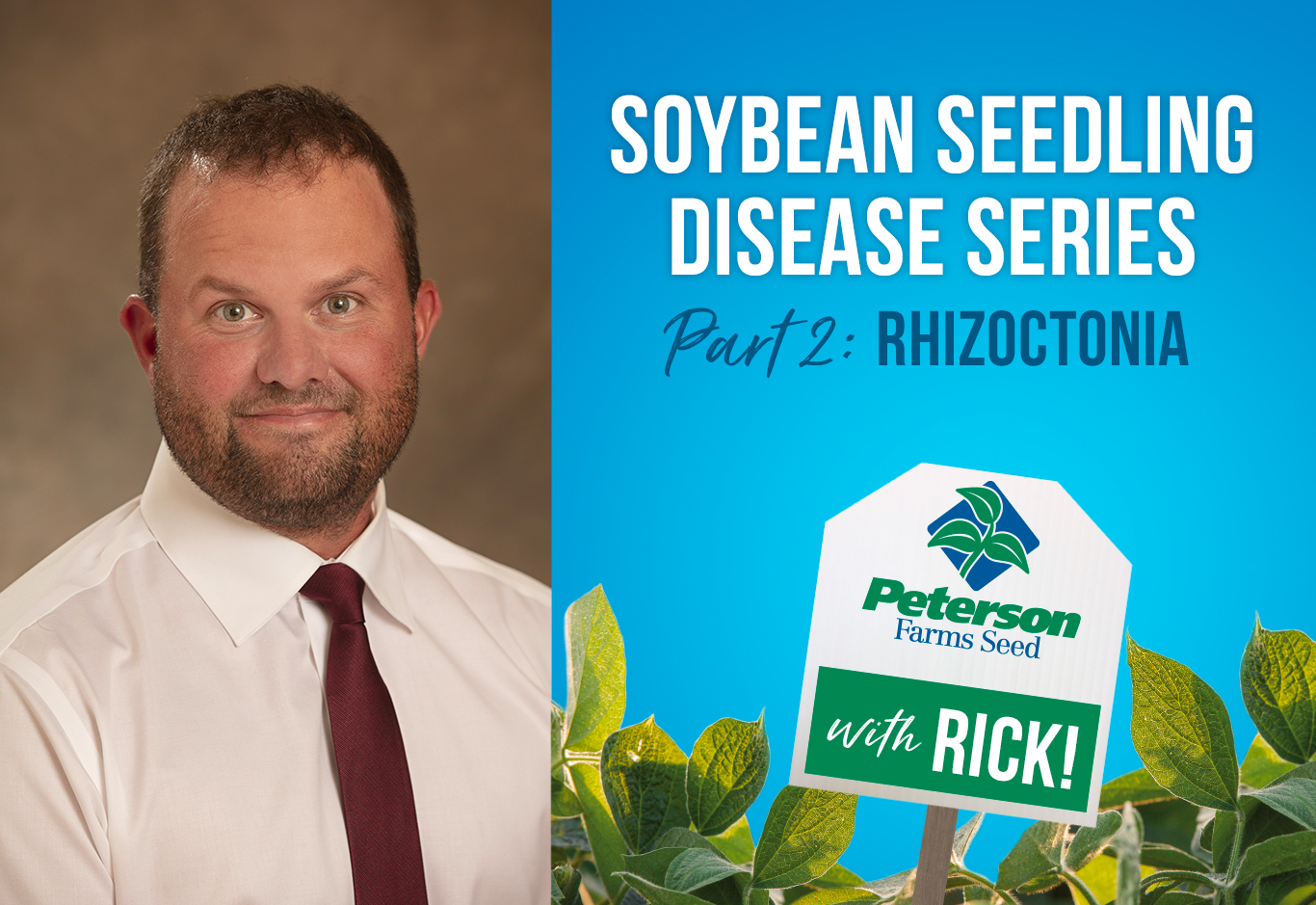 Rhizoctonia Facts
This disease has a wide range of hosts from grasses, potatoes,

beets

 and many other broadleaf crops

.

 

Rhizoctonia is one of the most common soil-borne

 diseases

.

 

L

ike Phytophthora

, rhizoctonia

 can occur by itself or in patches

.

 

Sclerotia survive in the soil without a host plant because of thick overwintering structure.

 

Infection can cause u

p to 50% yield reduction

.

 
What Does Rhizoctonia Look Like?
Pre and Post emergent damping off

, infected plants have a reddish

–

brown color and can have a sunk in or "girdled" appearance

.

 

The most common damage is damping off before the first trifoliate

.

 

Most infections occur in the top 

4",

right after planting,

 and are seen below the soil surface

.

 

Most wilt symptoms occur during warm and dry conditions especially on light and sandy soils

.

 

H

owever

,

 

symptoms can occur in all soil types.

 

Unlike Phytophthora

,

saturated conditions halt Rhizoctonia

 infections.

 
What Can You Do About
 Rhizoctonia? 
The right treatment makes all the difference. 

Three of the four key ingredients 

for controlling Rhizoctonia are

 

in

 

o

ur

proprietary seed treatments Peterson Select and Peterson Select+

.

Evaluating the treatment mix is critical when controlling seedling

Rhizoc

tonia

 infestations

.

 
There are a long list of diseases waiting in line throughout the season to take down your yields.  An investment in seed treatment protects a soybean variety's maximum yield potential.  
If you have questions about what you're seeing in your fields, seed placement or seed treatment, drop me a line at Rick@PetersonFarmsSeed.com.