Under negative conditions, seed treatment can be the difference between a solid stand and failure. Phytophthora, Rhizoctonia, Pythium and Fusarium are the most common seedling diseases in our area. Solid seed treatment is cheap insurance to help you sleep well at night.
It's no secret that we are big believers in protecting your input investment with a high quality, specially formulated seed treatment. If you haven't heard our reasoning, check out this blog.
In this series, I'll focus on the top yield-robbing seedling diseases we see in North Dakota, Minnesota & South Dakota. My goal is to help you understand what contributes to these diseases and what you can do to manage them on your farm.
Today we'll start with Phytophthora.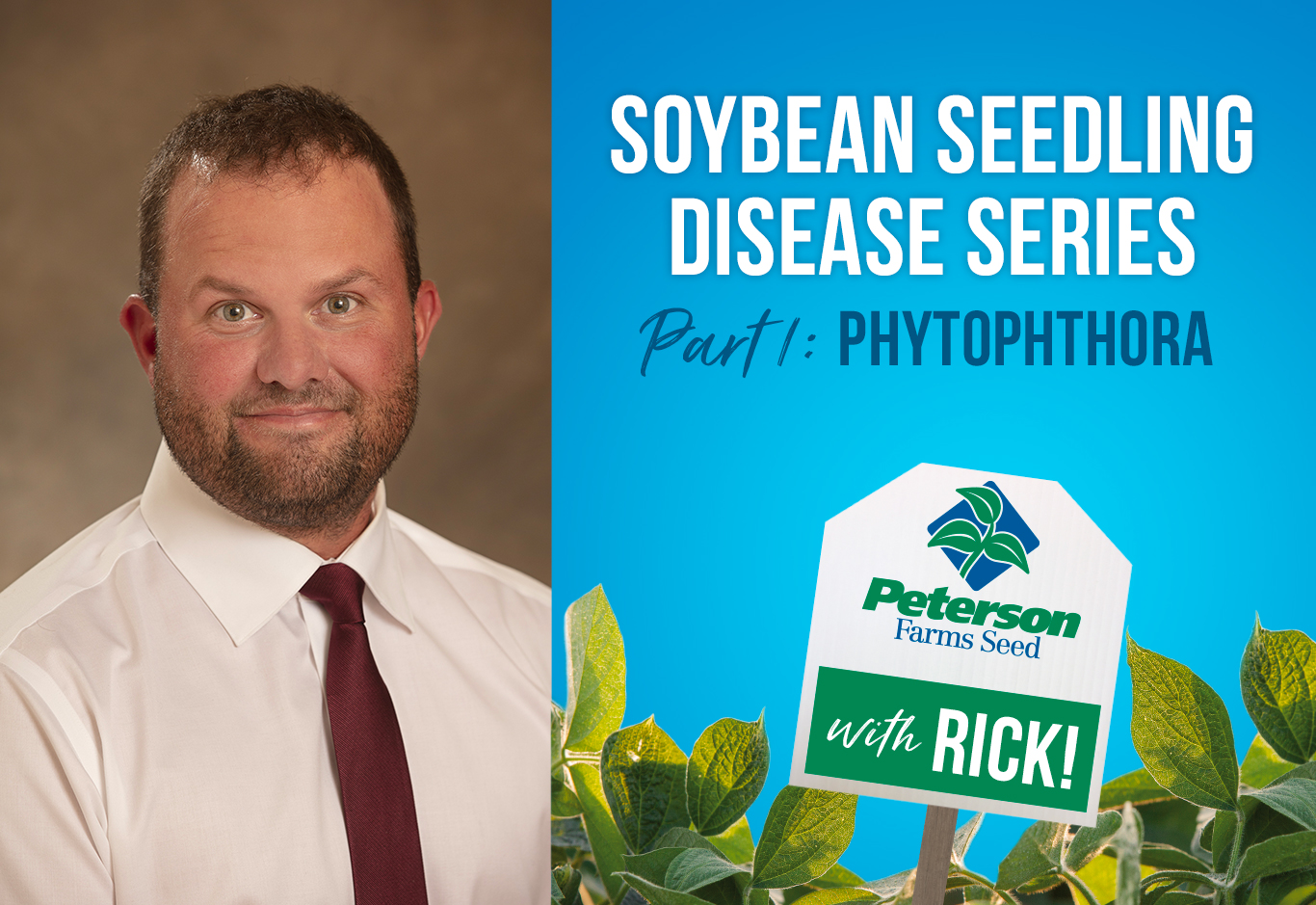 Phytophthora Facts
Not unique to soybeans, Phytophthora affects thousands of plant species with approximately 170 disease species identified.
Late Blight, which caused the Irish Potato Famine, is another well-known Phytophthora disease.
The word Phytophthora is Greek for "plant destruction".
What Does Phytophthora Look Like?
Most commonly occurs during wet saturated conditions in poorly drained soils—especially in areas of standing water.
Soybean seed may be infected within hours of planting.
Fungus survives on crop residue and in the soil.
Infections can start any time of the year when soil becomes saturated.
Infected plants can occur by themselves, in the row or in patches.
Once infected, it is only a matter of time until the plant will succumb.
"The Silent Killer" – Infected plants wither away into the growing canopy, most often requiring you to pull the canopy apart to find dead plants.
What Can You Do About Phytophthora?
Phytophthora tolerance in your varieties and seed treatment will help early in the season under tough conditions.
Rotate Phytophthora genes. Know which genes your previous varieties have had and be sure to change them up with each rotation.
Rps1-c, Rps1-k and Rps3a are the most commonly planted in our area. If you planted Rps1-c most recently, rotate to another the next time you plant soybeans. Check out Dennis's Phytophthora Gene Guide for an in-depth review of Phytophthora genes.
Remember genetic resistance does not kick in for a few weeks after emergence– making seed treatment key.
Many diseases are lined up throughout the season to take down your yields. An investment in seed treatment protects a soybean varieties' maximum yield potential. For a grower on the fence about the added expense, I'd suggest dropping the population to pay for treatment rather than the extra seed cost—not something you would expect a seed company to say!
If you have questions about what you're seeing in your fields, seed placement or seed treatment, drop me a line at Rick@PetersonFarmsSeed.com.
Ready for more? Check out Part 2: Rhizoctonia, Part 3: Pythium & 4: Fusarium